2022 Volkswagen Atlas Owner's Manual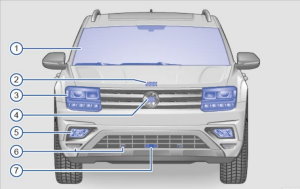 Does not have super popularity, among its compatriots, but deserves special attention. VolksWagen released a premium SUV model, which has already managed to get some updates, at least in the exterior display of the car.
The main "attractions" of the new version, assume the presence of new functions of electronics. For example, a multicool and a large multimedia screen.
As standard on the Atlas, the lucky owner gets an assistant system:
• Automatic braking in front of pedestrians
• Radar cruise control
• Automatic resumption of movement, after three seconds
Power output has changed slightly for the better. Now it ranges from 238 horses for all-wheel drive or front-wheel drive
With a city consumption of 7.9 liters, this car is able to accelerate to a hundred in less than 9 seconds. Electronic assistants work for safety, especially if there is a child in the car.
We also have owner's manuals for other vehicle years:
Need help?
You can ask a question about your car - 2022 Volkswagen Atlas by clicking on the link below. Please describe your question in as much detail as possible. We try to respond to each of our visitors. This service is currently free.

Ask your question on the page Need Help!