2017 Volkswagen Jetta Owner's Manual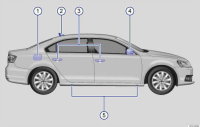 For fans of economical commuter cars or safe, performance-oriented family four-door sedans, the 2017 Volkswagen Jetta fits the bill perfectly. It really is a good car in many ways, especially if you want a safe and economical sedan with German tuning. Driving enthusiasts will want to bypass the lower trims in favor of the Jetta GLI, a performance-tuned sedan that acts as an affordable alternative to the BMW 3 Series. The five-seat Jetta comes standard with cloth upholstery and manually adjustable front seats.
We also have owner's manuals for other vehicle years:
Need help?
You can ask a question about your car - 2017 Volkswagen Jetta by clicking on the link below. Please describe your question in as much detail as possible. We try to respond to each of our visitors. This service is currently free.

Ask your question on the page Need Help!