2014 Volkswagen Jetta 1.8T SE Owner's Manual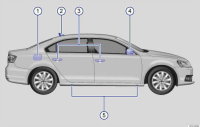 The 2014 Volkswagen Jetta is a small sedan with a stylish interior and a large trunk. It is roomier than most other compact sedans, so it is a good option if a lot of space is needed. Its simple style creates a clean dashboard layout with intuitive buttons and controls. There are five seats, and they all provide ample head and legroom. The rear side seats have full sets of LATCH child seat connectors, while the rear middle seat has an overhead safety tether.
The Volkswagen Jetta has one of the largest trunks in the class. The 2014 model has just a couple of standard features: a stereo and an auxiliary audio jack. Other features include dual-zone automatic climate control, satellite radio, navigation and VW Car-Net smartphone integration. The SE variant has a turbocharged four-cylinder engine and adds standard satellite radio, cruise control, leatherette upholstery and iPod connectivity. Also worth noting are two optional packages that add standard features such as connected Volkswagen Car-Net services, Bluetooth audio streaming, heated front seats, HD radio, push-button start, sunroof and touchscreen.
We also have owner's manuals for other vehicle years:
Need help?
You can ask a question about your car - 2014 Volkswagen Jetta 1.8T SE by clicking on the link below. Please describe your question in as much detail as possible. We try to respond to each of our visitors. This service is currently free.

Ask your question on the page Need Help!