2018 Volkswagen Jetta Owner's Manual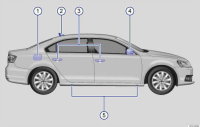 The seventh generation VW Jetta is built on the MQB modular platform, it has a semi-independent rear suspension (although the previous model after the restyling was installed multilever suspension). The engine is a 1.4-liter turbo TSI, giving out 150 hp. It can be paired with both a 6-speed manual and an 8-speed automatic. The power is transferred only to the front wheels. The R-Line package also includes Cross Differential System, which imitates blocking of the front differential, braking the inner to the curve wheel.
The car can be equipped with a panoramic sunroof (first for the model), leather interior with heated and ventilated front seats, BeatsAudio audio system (first for the brand in the U.S. market) rated at 400 watts. Electronic aids include adaptive cruise control, blind spot monitoring and lane-keeping systems, as well as a parking-space warning system.
We also have owner's manuals for other vehicle years:
Need help?
You can ask a question about your car - 2018 Volkswagen Jetta by clicking on the link below. Please describe your question in as much detail as possible. We try to respond to each of our visitors. This service is currently free.

Ask your question on the page Need Help!