2012 VW Jetta 2.5 SE Owner's Manual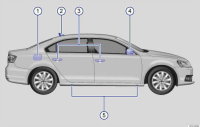 The 2012 Volkswagen Jetta boasts a long wheelbase and plenty of room for the rear row. The Jetta is quite roomy for a car of its class. Standard features are plentiful, and the diesel variants get a premium Fender touchscreen audio system. The SE model has a larger engine, cruise control, 16-inch steel wheels, a pass-through trunk, front and rear center armrests, and nice premium vinyl upholstery.
We also have owner's manuals for other vehicle years:
Need help?
You can ask a question about your car - 2012 VW Jetta 2.5 SE by clicking on the link below. Please describe your question in as much detail as possible. We try to respond to each of our visitors. This service is currently free.

Ask your question on the page Need Help!