2011 VW Jetta 2.5 SE Owner's Manual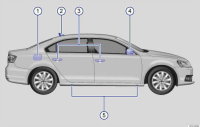 2011 VW Jetta 2.5 SE has 16-inch alloy wheels, heated windshield washers, and heated front seats, plus a leather-wrapped steering wheel, Bluetooth, and a solid sound system that supports satellite radio. A sunroof can be added to the Comfort package, and with it comes a premium sound system with a user-friendly touchscreen interface and six speakers.
We also have owner's manuals for other vehicle years:
Need help?
You can ask a question about your car - 2011 VW Jetta 2.5 SE by clicking on the link below. Please describe your question in as much detail as possible. We try to respond to each of our visitors. This service is currently free.

Ask your question on the page Need Help!