2020 Volkswagen Atlas Owner's Manual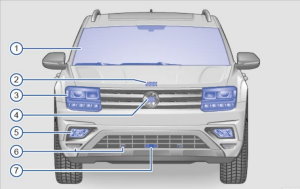 From a technical point of view the crossover has not changed: the same front-wheel drive MQB platform is the basis, MacPherson struts are installed in the front and multilever suspension is in the back. There is a choice of two gasoline engines: either a 2.0-liter four-cylinder (turbocharged, 238 powers and 350 Nm) or 3.6-liter six-cylinder (VR6 atmospheric, 280 powers and 360 Nm). Each of them is equipped exclusively with the 8-speed "automatic" Aisin, but there are versions with mono-and four-wheel drive (with each of the engines). The latter is realized by means of multi-disc clutch, which connects the rear axle.
Interior design of the crossover has not changed, except for the buttons on the steering wheel. As before, the multimedia system is represented by an 8-inch touchscreen display, and instead of the dashboard – in more expensive configurations – 10.3-inch display.
We also have owner's manuals for other vehicle years:
Need help?
You can ask a question about your car - 2020 Volkswagen Atlas by clicking on the link below. Please describe your question in as much detail as possible. We try to respond to each of our visitors. This service is currently free.

Ask your question on the page Need Help!