2021 Volkswagen Atlas Owner's Manual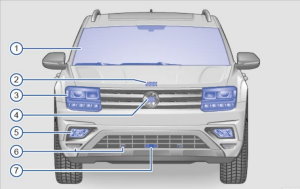 The Volkswagen Atlas is a front- or all-wheel drive crossover of the "K3" class, also known as the Teramont. Restyling of the first generation of the model. The modernized version premiered at the Chicago Auto Show in February 2020.
Due to the restyling, Atlas received external upgrades on the example of a more recent model Cros Sport. Thus, there is a new grille with three horizontal slats, passing into the drawing of the optics (now – narrower), as well as a different front bumper with contrast trapezoidal inserts and simulated air intake areas. The redesigned rear bumper now features a full-width red stripe, while the rear lights also boast a redesigned design. Thanks to the redesigned bumpers Atlas increased length by 61 mm (5098 mm, wheelbase of 2979 mm). Both the headlights and rear lights are fully diode already in the basic version (more expensive versions have adaptive headlights). 18-inch wheels are also the basic equipment, although for more advanced versions available and 21-inch.
We also have owner's manuals for other vehicle years:
Need help?
You can ask a question about your car - 2021 Volkswagen Atlas by clicking on the link below. Please describe your question in as much detail as possible. We try to respond to each of our visitors. This service is currently free.

Ask your question on the page Need Help!