2016 Volkswagen Jetta Owner's Manual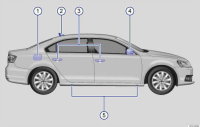 Some top-tier models have upgrades such as synthetic leather seats, sport seats and heated front seats. 2016 Volkswagen Jetta has one of the largest rear seats in the class. Most adults will be comfortable in the back. There is a simple infotainment panel with a redundant set of buttons. Even the base model has a touchscreen display, Bluetooth and USB port. All other trims offer a larger touchscreen, Apple CarPlay, Android Auto and satellite radio.
We also have owner's manuals for other vehicle years:
Need help?
You can ask a question about your car - 2016 Volkswagen Jetta by clicking on the link below. Please describe your question in as much detail as possible. We try to respond to each of our visitors. This service is currently free.

Ask your question on the page Need Help!